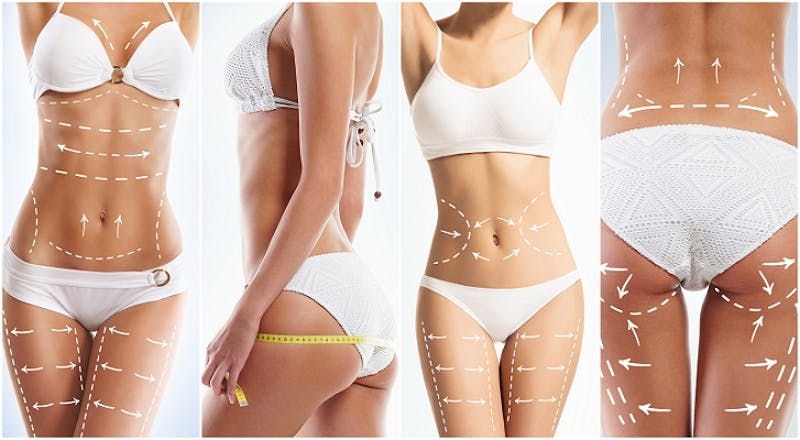 Liposuction is used to remove stubborn fat deposits from the:
Ankles and Calves
Knees and Thighs
Hips and Buttocks
Abdomen and Low Back
Midback and Chest
Neck and Face
Any area of the body where diet-and-exercise-resistant fat deposits accumulate can be treated with liposuction. The best way to learn where the procedure may prove useful for your goals is through a one-on-one consultation with an experienced and board-certified plastic surgeon.
Can More Than One Area be Treated With Liposuction at the Same Time?
It is possible to treat multiple areas of the body during a single surgical procedure. However, it is important to remember that liposuction is neither a safe nor effective method of weight loss. If you have stubborn fat deposits collecting in several areas, it may be necessary to undergo weight reduction before choosing liposuction.
Will Liposuctioned Fat Come Back?
Fat that has been removed through liposuction is gone forever. However, new fat accumulations may begin to occur if steps are not taken to maintain results – a process that for many involves just a few simple lifestyle changes.
Adults should aim for around 2.5 hours of moderate-intensity aerobic exercise every week. You can shorten this to 1.25 hours if your aerobic activities are high-intensity. It is also a good idea to work all of the major muscle groups at least once weekly. These simple steps can help you maintain your liposuction results.
Many exercises combine both weight training – sometimes through isometric exercises – and aerobic activity. Some of these are even in group class formats which may help to motivate some people to work out more. There is no right way to do it though, and if you struggle finding exercises you enjoy, consider working with a trainer until you have found a routine you feel excited about.
Remember, maintaining results requires a generally healthy lifestyle. Enhancing results will require a more progressive and demanding exercise routine. Choosing a diet and exercises that promote muscular definition is always an option, but will not be required for simple maintenance of your liposuction results.
Contact Dr. Lee to Learn More
Please call Richard H. Lee, MD at 949-548-9312 to schedule your liposuction consultation at our Newport Beach office today. Dr. Lee is a board-certified plastic surgeon offering body contouring through liposuction, EMSCULPT®, and more to patients living in and around Orange County.