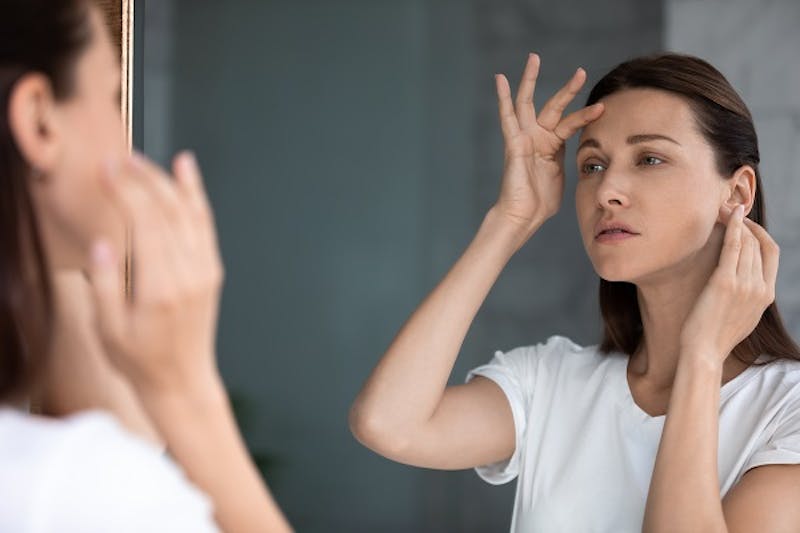 Drooping eyebrows are a common consequence of aging. In some instances, drooping is mild, producing only aesthetic concerns. In others, brows may obscure vision, making it difficult to see clearly without manipulation.
In all cases, if drooping eyebrows are causing you any sort of discomfort, now is a great time to contact our office for a one-on-one consultation with Dr. Richard Lee. Thoughtful, attentive, and experienced, Dr. Lee can evaluate your eyebrows and surrounding areas to help you choose the most effective treatment options.
FOREHEAD LIFT
Brow lift surgery is designed to smooth deep lines and creases across the forehead, eliminate the creases in between the eyebrows, and give lift to the eyebrows themselves. This can help to produce a much more youthful and attractive appearance to the entire upper face.
Dr. Lee takes time to plan and perform each brow lift procedure to help ensure the most natural-looking results that can, with proper skin care, last for several years.
Forehead lift focuses on the area between the hairline and the eyebrows. If you have concerns about other areas, such as the eyes, midface, or jawline, Dr. Lee can discuss combining brow lift surgery with blepharoplasty and facelift for more pronounced results.
DYSPORT®
Dysport® is a non-surgical solution for dynamic wrinkles. This injectable treatment can be used to soften smile lines, reduce crow's feet, and smooth the forehead. It can also be used to give gentle lift to the eyebrows, helping to produce a more alert and less aged appearance. It is common to use Dysport® on several areas during a single treatment session, working to soften and smooth multiple areas of concern without requiring several appointments.
Because it is non-surgical, results from Dysport® will not last as long as those from a surgical brow lift. During your initial consultation, Dr. Lee will listen to your concerns and carefully evaluate your problem areas to help you determine which options will help you reach your goals.
Please call board-certified plastic surgeon Dr. Richard H. Lee at 949-548-9312 to schedule a consultation today. Located in Newport Beach, Dr. Lee welcomes patients from all surrounding areas of California.