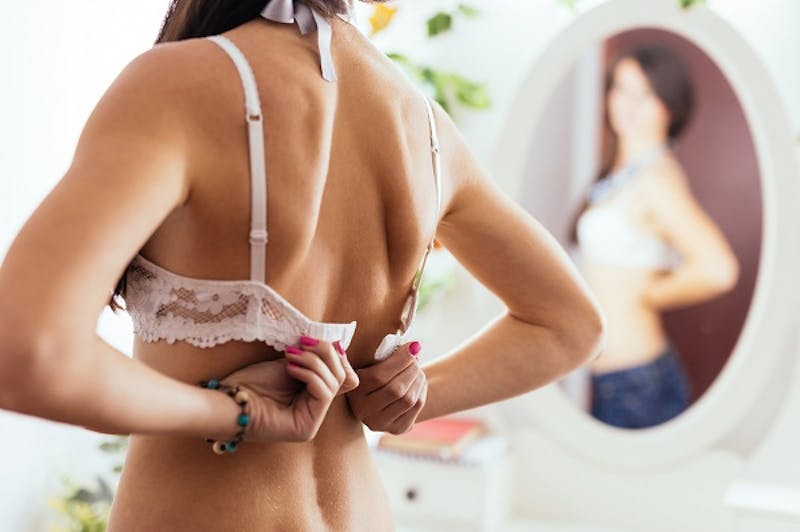 Breast lift surgery addresses sagging tissue and loose skin to produce a firmer and more youthfully positioned breast mound. Breast lift surgery does not automatically include breast implants, though they can be included in the procedure to enhance cleavage, improve symmetry, and add volume to the chest.
A breast lift alone offers remarkable results for some women. Breast lift with implants is necessary for others in order to maintain or improve desirable results. The best way to learn if breast lift alone or with implants is the better option for you is through a one-on-one consultation with board-certified plastic surgeon Dr. Richard H. Lee. During this visit, Dr. Lee will evaluate your frame, listen to your concerns, and help you determine the most effective techniques for your needs.
Breast Lift and Breast Size
For some women, breast lift surgery will reduce the size of the bust by approximately one cup size. This may be a result of less bulky and loose skin in the area or simply caused by the lifting of breast tissue. If any loss in volume is worrisome to you, adding implants to your lift procedure may be the best solution.
Dr. Lee utilizes the Keller Funnel for the placement of breast implants. This allows for contact-free placement and greatly reduces risks of infection, gel fracture, and implant tearing. It also allows for a smaller incision, helping to reduce risks of a visible scar while working to minimize trauma and recovery. During your initial consultation, Dr. Lee can answer any questions you have about the enhanced efficacy and safety of this technique.
Am I a Good Breast Lift Candidate?
Breast lift surgery is ideal for nonsmokers who are in generally good health but are currently unhappy with the positioning or lift of their breasts.
Women who undergo breast lift surgery should be prepared for a recovery period where activities must be limited. They must also be willing to closely follow all of our pre and postoperative advice.
Above all else, good breast lift candidates need to have realistic expectations about breast surgery results. We will discuss all of this with you during your visit to our office to help ensure you make the best choices for your needs.
Call Richard H. Lee, MD at 949-548-9312 to schedule your initial consultation at our comfortable Newport Beach location. Dr. Lee welcomes breast lift patients from Los Angeles and all surrounding areas of Orange County.
Category : Breast Implants