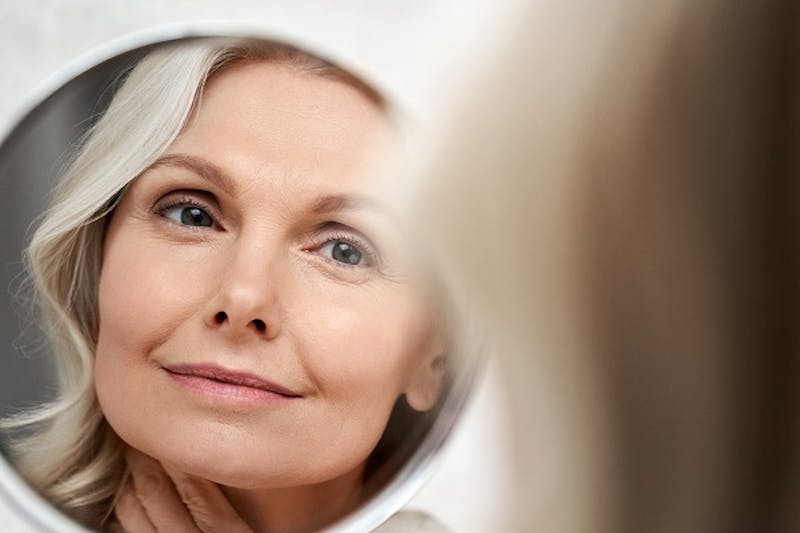 Wrinkles, fine lines, and deep creases are a combined result of genetics, lifestyle choices, sun exposure, and the simple process of aging. We can take steps to reduce damage, such as using quality skincare products, applying sunscreen daily, eating a healthy diet, and staying active, but it is not possible to avoid wrinkles entirely.
Some wrinkles occur with facial expressions. Known as "dynamic wrinkles," these include things like crow's feet, brow furrows, and smile lines which are present when the face is moving. The best treatment for these wrinkles is a wrinkle relaxer such as Dysport®.
Wrinkle relaxers disrupt the signal between nerves and muscles to allow tensed muscles to relax. This, in turn, allows the skin over the muscles to relax and smooth, eliminating wrinkles and restoring a more youthful appearance.
Wrinkle relaxers can provide results for three to four months at a time. Touch-up treatments can extend results much longer.
STATIC WRINKLES
Some wrinkles, skin depressions, and lines are always present. These are known as "static wrinkles," and include creases on the cheeks, sunken skin underneath the eyes, marionette lines, and nasolabial folds. Static wrinkles respond best to dermal fillers such as Restylane®, which work to restore volume and create a fuller, softer, and more appealing appearance.
Dermal fillers add volume for several months at a time and can be used for multiple purposes, including lip augmentation. Depending on the treatment area, Restylane® and similar fillers may produce results for up to 18 months. As with injectable treatments for dynamic wrinkles, fillers can be touched up as needed to help ensure continuous results.
OTHER NON-SURGICAL OPTIONS
Both fillers and wrinkle relaxers can help to smooth the skin, but they are not the only non-surgical options available for these purposes. We are pleased to offer a range of options, including chemical peel, RF microneedling, peel infusions, and several other skin care treatments that can be used alone or in specific combinations to address individual concerns.
To learn more, please call Richard H. Lee, MD at 949-548-9312 and schedule a consultation today. Our board-certified plastic surgeon and licensed Medical Aesthetician welcome patients from Newport Beach and all nearby areas of California.