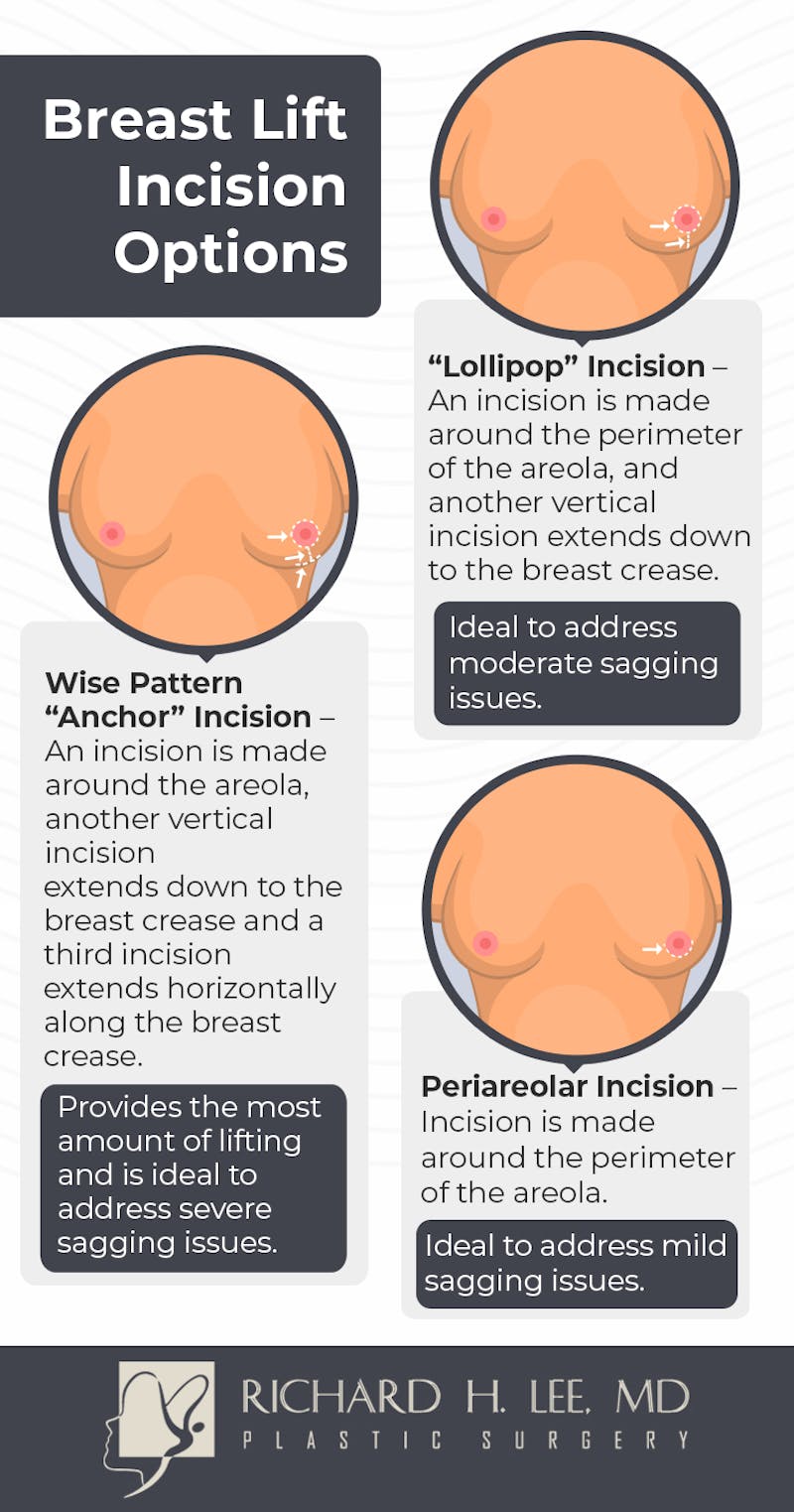 There are three primary breast lift incision options offered by board-certified plastic surgeon Dr. Richard Lee:
Periareolar. Made around the areola, this incision can be hidden in the darker skin around the nipple and is ideal for mild breast sagging
Lollipop. Following the Periareolar incision pattern, an additional incision is made from nipple to breast crease with the lollipop option. This incision is best for moderate breast sagging
Anchor. Also known as the "wise pattern" incision, the anchor expands on the lollipop to add an additional incision along the breast crease. This option is best for cases of pronounced or severe ptosis
Every woman is unique. That's not a platitude, it's a fact. No single option will be beneficial for every need. Thoughtful, attentive, and experienced, Dr. Lee is here to listen to your desires and provide the breast lift technique best suited for your body. Give us a call today to schedule your consultation and learn more.
Will My Breast Lift Incision Leave a Scar?
Incisions cannot help but leave scars. The care you take of your incisions will play a direct role in the final appearance of breast lift scars, making it very important that you follow all pre and postoperative directions provided by our office.
In preparation for breast lift surgery, we may ask you to stop taking certain medications, supplements, and herbs. If you use products with nicotine, including smokeless and vaped products, you will need to quit well in advance of your procedure to help prevent highly visible scarring as well.
Keeping incisions dry and clean after surgery, restricting activities, and using a compression garment during recovery can help reduce risks of scaring. If scars do manifest, silicone sheets along with certain gels and ointments may be useful in reducing their appearance. In some cases, laser skin resurfacing or another non-surgical scar treatment may prove useful as well. We can discuss these things as needed during your follow-up visits to help ensure your ultimate satisfaction.
Please call Richard H. Lee, MD at 949-548-9312 to schedule a breast lift consultation today. Located in Newport Beach, we welcome patients from all nearby areas of California.