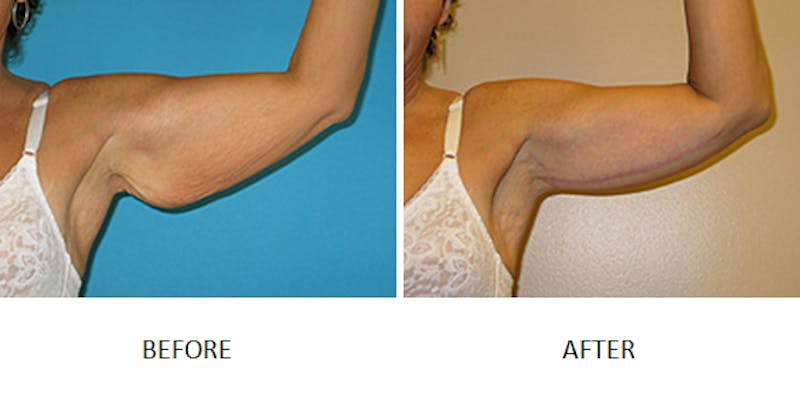 Brachioplasty, more commonly known as an arm lift, is an out-patient surgical procedure in which excess sagging skin is removed from the underside of the arms. On occasion Liposuction is used in conjunction with the arm lift to help tighten and smooth the underlying supportive tissue allowing us to reshape and provide improved contour to the upper arms.
Brachioplasty is a procedure performed under general anesthesia. An incision is made in the armpit area and extends to just above the elbow along the backside of the arm. Following surgery, your arms will be wrapped in a compression garment for about three weeks. This garment helps minimize swelling and provides additional support to the tissue as it heals. Any suture will be removed 7-10 days following the procedure. You may resume normal activity around the 3 week mark noting that the incisions are 80% healed. If you still have swelling around this time he may ask that you hold off as far as any exercising until closer to the 6 week mark when the incisions are 100%.
If you would like to talk in more depth about this procedure please call Dr. Richard Lee to set up your consultation!!