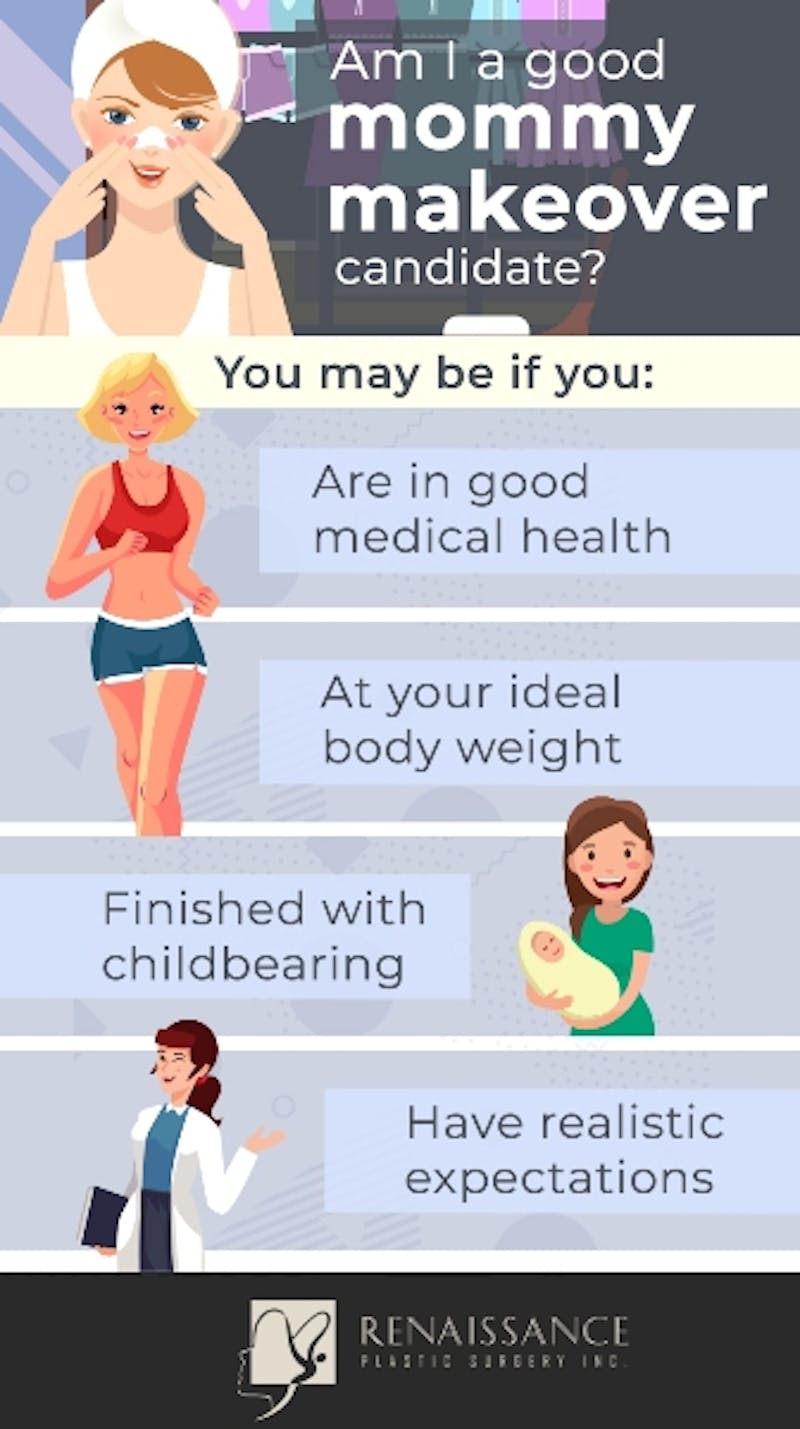 Mommy makeover surgery is designed to improve the appearance of those parts of the body most impacted by pregnancy, childbirth, and nursing. Depending on the way motherhood has changed your body, the procedure may include:
In some cases, facial procedures, such as neck liposuction, can be included in mommy makeovers as well.
Why Combine Procedures?
Combining plastic surgery procedures helps to reduce trauma, risks, and recovery time. By having multiple procedures performed during one surgery, recovery for all can occur at the same time, allowing busy moms to get back to normal faster than would be possible if surgeries were stacked one after the other.
Is Mommy Makeover Right for Me?
The best candidates for mommy makeover surgery are women who are satisfied with the size of their families. The procedure will not make it harder to get pregnant, but future pregnancies will undo many of the results obtained through surgery.
In addition, mommy makeover candidates should be:
In generally good health
Able to take time off for recovery
Willing to follow pre and postoperative directions
Realistic in their expectations
Recovery from mommy makeover can take several weeks with the first few requiring strict limitations on physical activity. It is important that you have sufficient support at home to ensure you can rest, relax, and recover during this time. It is also important to be fully aware of both the benefits and limitations of mommy makeover surgery before committing to the procedure. Working with a board-certified and honest plastic surgeon can help ensure you fully understand what mommy makeover can do for your specific needs.
Would You Like to Learn More?
The best way to learn if you are a good candidate for mommy makeover surgery is through a one-on-one consultation with an experienced plastic surgeon. Dr. Richard Lee has over 25 years of experience helping women reach their goals through customized surgical procedures. He welcomes the opportunity to meet with you, listen to your desires, and help you determine which services might be best for your needs.
Call Richard H. Lee, MD at 949-548-9312 to schedule your consultation today. Located in Newport Beach, we welcome mommy makeover patients from all surrounding areas of California.