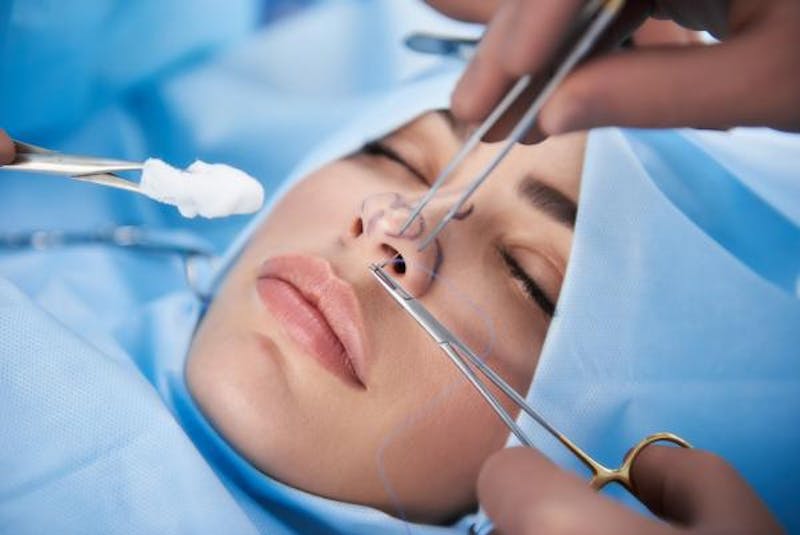 It can be extremely frustrating to achieve an unsatisfactory outcome from a rhinoplasty, especially due to the significant recovery time and cost associated with the procedure. In some instances, this unsatisfactory outcome may be related to aesthetic results that missed the mark. In other cases, it may be due to the development of breathing problems or other functional issues after surgery. Fortunately, you don't have to live with this poor outcome. Dr. Richard Lee can perform revision rhinoplasty to correct the problems associated with your initial procedure.
Dr. Lee is a board-certified plastic surgeon with over 15 years of experience performing revision rhinoplasty procedures, and this extensive background enables him to achieve excellent results. That being said, it's important to understand that revision rhinoplasty is often more complex than the initial procedure, and you'll need to plan carefully before moving forward with surgery.
By taking the following 5 steps, you can increase the likelihood of a successful outcome on your revision rhinoplasty.
Make Sure Your Nose Is Fully Healed
It takes longer for your nose to fully heal than you may realize. Post-operative swelling on the inside of your nose may take up to 18 months to subside. In addition, it takes time for the scar tissue to soften and become more flexible. If you rush into your revision procedure, it may be more difficult to address all post-surgical issues.
In general, Dr. Lee recommends waiting at least one year following your initial rhinoplasty before considering a revision procedure. This will ensure that your nose is sufficiently healed to withstand the rigors of another surgery.
Choose Your Plastic Surgeon Wisely
In general, it's a good idea to work with a new plastic surgeon for your revision rhinoplasty. If you were unhappy with your initial result, there's no reason to keep moving forward with the same person.
Revision rhinoplasty is a complex procedure, and it's crucial to make sure you choose a plastic surgeon who has the skills and experience to achieve the outcome you desire. Look for the following qualifications when choosing a plastic surgeon for your revision procedure:
Has extensive experience performing revision rhinoplasty procedures
Has good reviews from previous patients, particularly from patients undergoing rhinoplasty
Has before & after photos demonstrating good results
Don't be afraid to ask a potential plastic surgeon questions about their background and experience during your consultation. If you don't feel comfortable after this appointment, keep searching until you find the right fit for your unique needs and goals.
Schedule More than One Consultation
There are many factors which may impact the complexity of your revision rhinoplasty, including:
The extent of disruption created by your initial surgery
The severity of scarring and how this may impact your revision procedure
The amount of cartilage removed during your initial procedure
The quality of your nasal airway
The technique used on your initial surgery
It's important that you are fully informed about your treatment options before deciding on a surgeon. The best way to feel confident that you are choosing the right approach to address your unique needs and goals is to speak with several plastic surgeons. Since you're undergoing a revision procedure, the stakes are a bit higher. You definitely want to make sure the surgery is performed correctly this time around.
Get as Much Information as Possible from Your Previous Surgeon
While your new plastic surgeon can learn a lot from looking at the current condition of your nose, it's always helpful to arm your doctor with as much information as possible. In order to ensure your revision rhinoplasty surgeon recommends the right treatment plan, ask your previous plastic surgeon for the following information:
Pre-operative photos of your nose
Summary of how the procedure was performed
Don't be afraid to ask for this information. You are entitled to receive a copy of your medical record and to share it with any other doctors who might need that perspective in order to help you moving forward.
Plan for a Longer Recovery
The increased complexity of a revision rhinoplasty also means that your recovery will be longer and more involved. It's common to experience more swelling and bruising than during the initial procedure, and it generally will take longer for your nose to heal. In addition, there may be greater restrictions on your activity after your revision procedure. Dr. Lee will discuss the recovery process with you in detail during your consultation so that you know what to expect.
Contact our Newport Beach Plastic Surgeon
Please contact Dr. Richard Lee using the form on this page or call 949-548-9312 today to schedule your free revision rhinoplasty consultation. We serve patients in Newport Beach, Irvine, Santa Ana and throughout Orange County, California.